Yesterday
, September 16, 2007, the world lost a wonderful father, husband, brother, uncle, grandfather, and great grandfather.
Bill died in his home
surrounded
by his sons, daughter-in-law, and wife of 30 years. He lost his battle with cancer.
He was a truly great person. I never heard him raise his voice. He loved his family and would do anything for them.
Papa, give Kristen a hug for me in Heaven. Look after us, and help us help Nana, she is lost without you.
We love you so.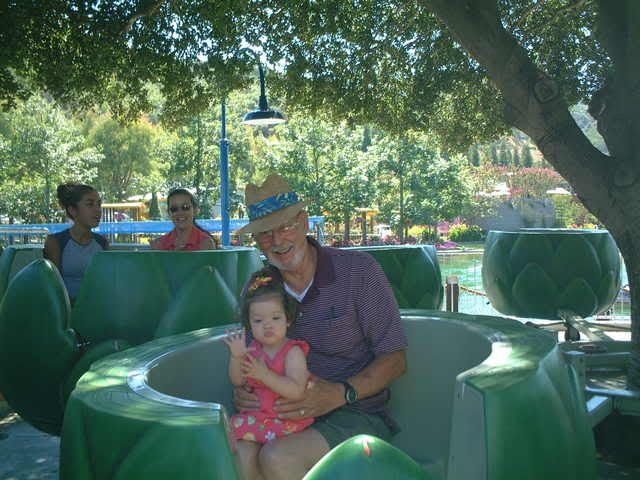 Bill Sadler May 2, 1931 - Sept. 16, 2007 Bill died at home surrounded by his family. Born in Perkins, OK., his family and his uncle's family moved to CA when he was 5 yrs. old. Bill is survived by his 2 children; son Randy and his wife Georgia of SC; daughter Cindy Moffatt and her husband Jim of Mc Kenleyville. He is also survived by his wife Catherine and her 4 children: Mark (Debbie), Steven (Tammy) of Austin, TX., Jeff (Rita) and Theo. He leaves behind 3 sisters, Carol, Pat, and Debra; 9 grandchildren, Brian, Matt, Laura, Bryan, Haley, Travis, Jessica, Shannon and Joseph; also 5 great-grandchildren with another due in March. He shared many memories with his cousin Jack. Bill is preceded in death by his sisters, Mary Jo and June, his son Douglas and his granddaughter Kristin. He is retired from FMC where he still has many friends. He loved most of all to be around children. The family thanks Hospice of the Valley, especially Coleen for the special care she gave Bill. A Memorial Service for Bill will be held at Oak Hill Funeral Home in the Chapel of Roses at 10 a.m. on Thurs., Sept. 20th, 300 Curtner Ave., San Jose, CA. 95125.
Published in the San Jose Mercury News on 9/18/2007.
http://www.legacy.com/mercurynews/obituaries.asp?Page=SEARCHRESULTS